Steamboat Springs Area maps
What's So Special About Steamboat Springs?
Steamboat Springs, CO is a city in northern Colorado's Yampa Valley. It is also home to the Howelsen Hill ski area and the Steamboat ski resort. The city's geothermal hot springs are said to have therapeutic properties. Near the city center, the long-standing Old Town Hot Springs is equipped with swimming and soaking pools, plus water slides. Click here to search Steamboat Springs Homes For Sale.
Steamboat Springs, CO gets 24.1" per year of precipitation. The temperature ranges from 0.9ºF in Jan to 82ºF in July.
The top industries are Construction, Accommodation & Food Services and Arts, Entertainment & Recreation.
The nearest airport to Steamboat Springs, CO is Yampa Valley airport and is 21 miles from the center of the town.
The most popular method of commute is by car followed by walking, public transportation and bicycle. Also, half the residents commute 13 minutes or less to work
Elevation: 6,732?
Weather: 60°F (16°C), Wind W at 6 mph (10 km/h), 23% Humidity
Population: 12,100 (2013)
Furthermore, places you should visit when you come to Steamboat Springs:
Steamboat Ski Resort
Mount Werner
Howelsen Hill Ski Area
Yampa River Botanic Park
Fish Creek Falls
Strawberry Park Hot Springs
Howelsen Ice Arena (lots of fun for kiddos), and many more.
And some of the popular Steamboat events are:
Steamboat Winter Carnival
Steamboat Marathon Half and 10k
Rocky Mountain Mustang Roundup
Fourth of July Celebration
Hot Air Balloon Rodeo
Steamboat Wine Festival
Wild West Air Fest
Oktoberfest
Steamboat Springs Local Bus Service:
Steamboat Springs Transit (SST) provides fixed-route transit service throughout the City of Steamboat Springs. Year-Round bus service is provided daily around town and between downtown and the Ski Resort Mountain Base area. Schedule information is available on the buses and in brochure racks located throughout Steamboat Springs. In addition, the local bus route is a "free to user" system!
Many activities
Steamboat Springs is a premiere slopes destination. And at the same time, the town also offers outdoor recreation of every stripe and season. Some of the adventures are: hiking, biking, running, swimming, snowmobiling, fishing, hunting, sleigh ride dinners, scenic gondola rides, horseback riding, tubing, cross country skiing, hot air balloon rides, snowshoeing, pro rodeo, kayaking, rafting, wagon dinner rides. In addition, there are miles of trails to explore and the Yampa River is there to cool off each afternoon also. Therefore, after a long day hiking, schussing or shopping, you can relax in one of the natural hot springs for which the town was named. Cowboy hats and ski boots are very welcome on the city's friendly streets.
Help with relocation…
My husband and I moved to Steamboat Springs, CO in September 2005. Since then, we call Steamboat our home. In addition, we also feel very lucky to find such a beautiful and special place to raise our kids.
Being part of the Steamboat Springs, CO community for 12 years, provided me, in addition, with great knowledge about many aspects of Steamboat Springs: real estate, schools, lifestyle, and many other benefits that Steamboat has to offer.
Therefore, if you have any questions about Steamboat Springs, please give me a call. I'll be happy to answer any questions you might have. Also, if you need help relocating, finding a rental place, need information about schools, please don't hesitate to give me a call.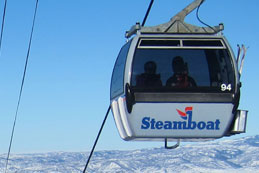 In addition, there are some helpful links for you:
http://www.steamboatchamber.com/
http://steamboatsprings.net/
http://www.mainstreetsteamboat.com/