If you are looking for one of the reputable, hardworking and honest Steamboat Springs Realtors, be assured Sunny Brstina is one of them.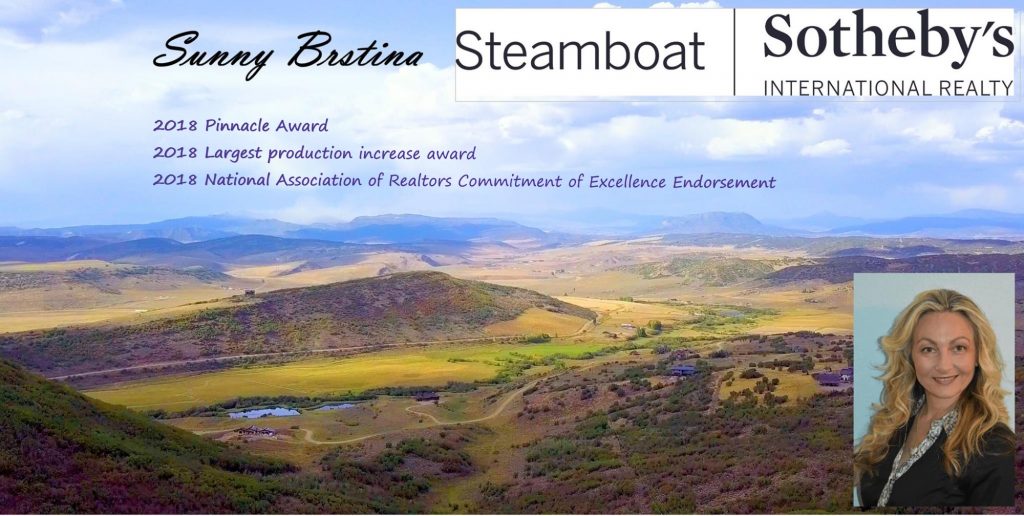 About Sunny
Sunny Brstina, Steamboat Sotheby's International Realty | Real Estate Broker
Realtor – Ethics and Honesty are the two most important values for me. My client's interest ALWAYS comes first.
Real estate investor in Steamboat Springs since 2005 – I did well as an investor in Steamboat Springs real estate, and my goal is for all of my clients to do well and be happy with their purchase.
Spec home builder – Purchasing the land, analyzing data on what to build, where to build, and successfully finishing the project requires lots of experience and real estate knowledge. I'm happy to help you succeed as well.
Graduating in mathematics – Numbers have always been my passion. I enjoy analyzing the market stats, rental income potential, etc. To successfully invest in real estate, I had to do lots of data analyzing. I would be happy to share the stats with you.
Information systems Engineer – At first, I wanted to be a software programmer. I realized most of the time spent in front of the computer, is not what I wanted to do. I wanted to interact with people, show properties and help people make the best decisions when it comes to real estate investments. However, being an Information Systems Engineer provided me lots of knowledge when it comes to software, investments, today's technology, etc.
"Your happiness is my motivation." This is Sunny's motto, and these are words that she lives by every single day in working with her clients. Sunny's unique background in custom home building and renovations and in real estate investments provides her with a broad and diverse knowledge, which is an asset to her clients. She also has a strategic and powerful approach to marketing, bolstered by her Master's Degree in Information Systems. This technical expertise in the digital world is a key differentiator for Sunny and sets her apart from other brokers in the digital marketing that she is able to provide to her clients. Sunny comes to work every day with one goal – to provide the highest quality service and a great experience to each of her clients and within each transaction. She has been fortunate enough to call Steamboat Springs "home" since 2005, and to raise her kids in such a wonderful community. She looks forward to sharing her passion with you. Buying, selling, relocation, investment, building – whatever you are looking to do, Sunny is driven to exceed your expectations. After all, your happiness is her motivation.
The results speak for themselves
Steamboat Sotheby's International Realty brokers were recently acknowledged for their achievements and outstanding performance in 2018. Please click here to see the full article.
2018 Pinnacle Award
2018 Largest production increase award
2018 National Association of Realtors Commitment of Excellence Endorsement
2020 Global Summit Award
2020 Largest production increase award
The secrets of Sunny's success:
putting people first
consistent and professional communication
integrity and honesty in all my dealings
10+ years selling/buying/investing in real estate
extensive custom home building experience
master's degree in information systems
Your happiness with the outcome of a professional relationship is Sunny's number one priority.
Please visit my Testimonials page to see what my clients say about me.
"Sunny is very responsive and easy to work with. She is a great listener and is able to determine exactly what you are looking for. Sunny finds the perfect property for you, gives you all the details you need and does everything extremely quickly and efficiently. With a "can do" attitude, Sunny takes care of every detail and provides excellent client service. She understands the importance of moving quickly and is very assessable whenever you need her. I have purchased and sold many properties over the past 25 years and I can honestly say that Sunny was the best realtor I've ever worked with. ~Lisa Behbehani"