If you are looking for luxury in Steamboat Springs, Colorado, then look no further than One Steamboat Place for sale. Located slopeside in gondola square, at the base of Mount Werner and the Steamboat Springs ski resort, One Steamboat Place is redefining luxury living.
One Steamboat Place not only offers close proximity to the slopes and access to the signature champagne powder that Steamboat is known for, but One Steamboat Place also offers 5 star amenities and personal service that enhance all of the experiences of Owners and visitors alike. "Gracious, knowing and unpretentious attention to every detail, to ensure that every stay at your mountain home is as effortless as it is memorable," says onesteamboatplace.com.
Click here to search Steamboat Springs Ski In Ski Out condos for sale or Click here if you would like to search all Steamboat Springs condos for sale.
An Experience All Its Own- One Steamboat Place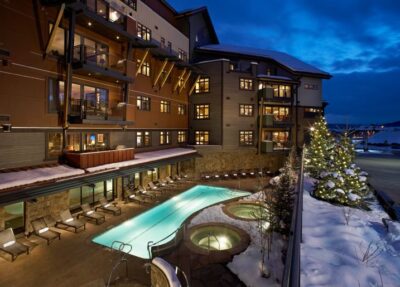 According to their website, One Steamboat Place offers "an experience in the Rocky Mountains," that is like no other.
Whether you are looking to own a deluxe property here, ideally located on the mountain, or you just want to visit Steamboat Springs, One Steamboat Place offers access to year-round outdoor adventure (skiing in the winter and biking in the summer), in the lap of luxury. "Here you'll find a truly private, uniquely residential setting-intimate and relaxing when you want to get away and endlessly entertaining when you're ready to kick up your heels. Every amenity, luxury and convenience is at hand, served with authentic hospitality by a thoughtful staff whom you'll come to know and enjoy, and who make each and every day a pleasure."
Regardless of whether you spend 1 week at One Steamboat Place, a season, or years, everyone can agree that One Steamboat Place offers a one-of-a-kind experience that is setting the bar high for ski-in and ski-out stays in the Rocky Mountains, as well as luxury living at its finest.
One Steamboat Place for sale
Quick facts about One Steamboat Place:
AREA Mountain-South Side
ADDRESS 2250 Après Ski Way
MGMT. COMPANY Timbers Resorts
MGMT. CO. PHONE 970.439.2328
WEBSITE onesteamboatplace.com
YEAR BUILT 2009
ON-SITE CHECK-IN Yes
SKI-IN/SKI-OUT Yes
PETS Owners Only
SHUTTLE Yes
RENTALS Nightly, Long-Term
RIGHT OF FIRST REFUSAL No
WORKING CAPITAL No
GARAGE Parking Garage
ELEVATOR Yes
MAIN LEVEL MASTER Yes
| UNIT TYPE | # OF UNITS | SQUARE FEET |
| --- | --- | --- |
| | 80 | 3805 sf |
| | 80 | 2504 sf |
HOA AMENITIES
Outdoor Pool
Outdoor Hot Tub
UNIT/PROPERTY AMENITIES
Ski Valet
Concierge
Spa
Fitness Center
Wine Cellar
Private Shuttle
Room Service
Catamount Club Membership
Give me a call if you are interested in One Steamboat Place units for sale.
Your Happiness Is My Motivation
Sunny Brstina | Steamboat Sotheby's International Realty
*This information is believed to be accurate but is not guaranteed, and is subject to change.*