Search all Marabou Ranch Steamboat Springs homes for sale below. Marabou Ranch Steamboat Springs features premiere Colorado luxury ranch property for sale and it is located less than 3 miles away from beautiful downtown.The Marabou luxury ranch community is spread over 1,717 acres and 1300 acres of the land are dedicated to shared open space featuring two private miles of the Elk River. It is designed for families that love the outdoors. Each homesite is its own private refuge, nestled among vegetation and valleys to maximize privacy and seclusion. There are 62 homesites of 5-7 acres, and six owner's cabins along the Elk River for owners and their guests to enjoy.
Marabou Ranch Amenities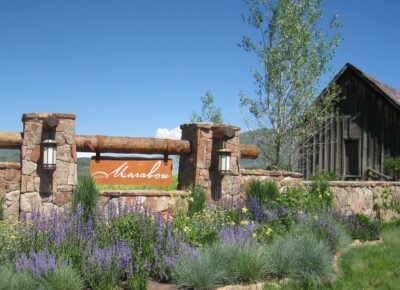 Equestrian – The horse program at Marabou includes: a rodeo arena, rope and barrel racing, cattle drives, well-trained horses, custom saddles, and 20 miles of equestrian trails.
Fishing – Enjoy off-site access to over 100 miles of water to fish in the surrounding Yampa Valley.
Biking and hiking – Over 20 miles of multi-use trails have been constructed and are maintained year round at Marabou.
Snow sports
Hunting
Master Guides – Marabou Ranch offers Master Guides on hand for residents to learn and live all aspects of the outdoors
Cabins – luxurious cabins available for ranch property owners and their guests. Nestled along the Elk River, the Owners' Cabins have dual master suites, a loft, fireplaces, full kitchen, flat screen TVs, steam showers, expansive decks, and can comfortably sleep up to eight people.
River House Lodge – The mountain lodge is where ranch property owners get to meet neighbors, and entertain family and friends.
Mountain Camp – Mountain Camp is located at the base gondola of Steamboat Ski Area and it is open to owners and their guests year-round.
Spa
Pool and Fitness
Theater
Marabou ranch homesites for sale
To learn more about the Marabou lifestyle and luxury ranch homesites for sale, please contact your Steamboat Springs real estate expert today. If you would like to Search other shared ranches for sale in Steamboat Springs, please Click Here.
Your Happiness Is My Motivation
Sunny Brstina | Steamboat Sotheby's International Realty
*This information is believed to be accurate but is not guaranteed, and is subject to change.*